Archived News:
October 18th, 2011 - The team originally planned to travel to Whynot Motorsports Park (Meridian, Mississippi) this coming weekend, October 21st-22nd, for the 17th Annual Fall Classic. However, due to a busy work schedule the team will now be taking the weekend off.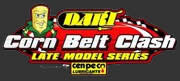 October 15th, 2011 - It was back to action with the Corn Belt Clash Super Late Model tour over the weekend with a doubleheader at at Elko Speedway (Elko, Minnesota). On Friday night Jason started second and chased leader, Lance Mathees, early in the event before slipping by in lapped traffic to take over the top spot near the race's mid-stage. Rauen would lead until late in the race when Mathees slipped by for the lead. Jason would go on to finish second in the $2,500-to-win event.
On Saturday night a $3,000-to-win, tour event was held and Jason earned the fifth starting spot for the main event. During the course of the event he would methodically work his way forward before using a high-side pass with just a few laps remaining to take the lead from Lance Mathees. Rauen went on to lead the final two laps on his way to his fourth win of the year, which came over Mathees, Tim Isenberg, Justin Mitchell, and Jill George. Full results are available at www.CornBeltClash.com.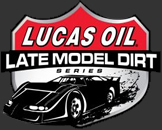 October 1st, 2011 - Saturday night marked the third and final night of the 8th Annual Lucas Oil Late Model Nationals at Knoxville Raceway, and via his performances on the preliminary nights, Rauen earned the eleventh starting spot for the 100 lap, $40,000-to-win event as the cameras of SPEED TV taped everything for a future broadcast. Unfortunately for Jason, mechanical woes would plague him early and often in the finale, and he would only be able to manage a twenty-seventh place finish in the final rundown of the richest payback of the season. Overall it was still a great run for Rauen and the team as he continues to make noise in big events in 2011. Full results are available at www.LucasDirt.com