Archived News:
April 15th, 2012 - The team set out to enter a pair of Corn Belt Clash Series events over the weekend with a Friday race at Davenport Speedway (Davenport, Iowa) and Peoria Speedway (Peoria, Iowa). However, Mother Nature would have different ideas nixing both shows. After being rained out on Saturday night officials attempted to run the Peoria event on Sunday evening, but heavy rain would arrive during heat race action, again nixing the program. The team will take the upcoming weekend off from racing before returing to action on April 27th-28th at the Great American Dirt Track (Jetmore, Kansas) for a pair of events with the Mid America Racing Series (MARS).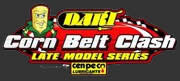 April 7th, 2012 - On Saturday night the team traveled to I-80 Speedway (Greenwood, Louisiana) for the opener for the Corn Belt Clash. The $3,000-to-win event was also sanctioned by the Lucas Oil MLRA Super Late Model tour as 45 cars entered the event. He started the night by finishing second in his heat race to lock into the eighth starting spot for the 40 lap, main event. Unfortunately, for the second straight night Jason would see a top ten run in the feature come to an end with just a few laps remaining as a flat tire sidelined him to a 22nd place finish in the final rundown. Full results are available at www.CornBeltClash.com.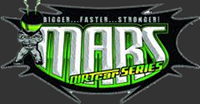 April 6th, 2012 - Jason opened his 2012 campaign on Friday night at the Thunderbird Speedway (Muskogee, Oklahoma) in the $5,555-to-win, Charlie Fulton Memorial. The Mid America Racing Series (MARS) sanctioned event saw a strong field of 36 competitors register for battle around the historic, 1/2 mile. Rauen started his night by advancing from the sixth starting spot in his heat to a fourth place finish, which locked him into the 14th starting spot for the 55 lap feature. Early in the feature he would get spun, forcing him to the tail of the field. He would quickly charge through the field, reaching as high as the seventh position, before a flat tire with two laps remaining ending his night. He was credited with a 12th place finish in the final rundown. Full results are available at www.MARSRacingSeries.com.