Archived News: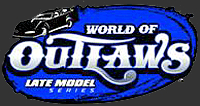 August 6th, 2013 - Monday evening found Jason traveling to Independence Motor Speedway (Independence, Iowa) for a $10,000-to-win, World of Outlaws (WoO) Super Late Model event at the 3/8 mile oval.
A field of 32 Super Late Models entered the program, and Rauen would find himself falling just short of locking into the feature via heat race and b-main action. However, he would receive a track provisional to start the main event in the 25th position. He advanced a few spots early in the finale before overheating issues on lap 14 forced him to retire to a 21st place finish.
Full results from the event are available at www.WoOLMS.com.
Jason concluded his weekend on Tuesday night at West Liberty Raceway (West Liberty, Iowa) in a $10,000-to-win, unsanctioned Super Late Model event, which was tabbed Tornado Tuesday. Twenty-four entries filled the pit area for the program, and Jason started his night by winning his heat race. In the main event Rauen battled the handle as he slipped to a 13th place finish on the 1/2 mile oval.