Archived News: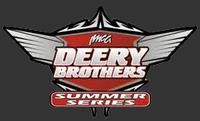 October 11th, 2014 - The 2014 Deery Brothers Summer Series drew to a close over the weekend with the annual Liberty 100 West Liberty Raceway (West Liberty, Iowa).
Thirty-eight IMCA Late Models registered for the two-day mega event, which kicked off on Friday night with a pair of qualifying heat races. Jason started at the tail of the first heat race, and was involved in a multi-car incident that resulted in a fifth place finish. In the second round of heats Rauen drew the pole position, and capitalized on the opportunity by charging to the win. His preliminary performance locked him into Saturday's $3,000-to-win finale.
Jason also competed in the 25 lap, $1,000-to-win Iron Man Challenge race on Friday night, open to all former series champions and to drivers with perfect attendance through the first 13 Deery events of the season. Unfortunately, mechanical issues forced him to retire to a thirteenth place finish.
The 50 lap main event was contested on Saturday night at the 1/2 mile oval. Rauen had high hopes for the feature but, mechanical issues would bring his night to an early end. He was credited with a 24th place finish in the final rundown.
Full results from the weekend are available at www.IMCA.com