November 25th

, 2017

- Saturday night found Jason Rauen in action at Lonestar Speedway (Kilgore, Texas) for the COMP Cams Super Dirt Series sanctioned Topless Turkey Nationals. Moving up one spot in his 8-lap heat, Rauen logged a 7th place finish transferring him into the B-Main for one final shot at the $5,000-to-win A-Main. Sending the Top 2 into the show, Jason came up two spots short with a 4th place outing ending his night early.

Full results from this event are available at www.COMPDirt.com.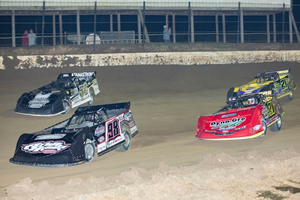 November 4th

, 2017

- On Friday night Jason Rauen visited Jackson Motor Speedway (Byram, Mississippi) competing in the All American 60. With 27 Super Late Models on hand for the two-day event, Rauen followed up the fastest time overall with a heat race victory. Rolling off on the pole for the $7,500-to-win A-Main on Saturday night, Jason led the opening 57 laps until he made hard contact with a lap car that ended his night. He was credited with a 12th place outing. (Ricky Victory photo)

Full results from this event are available at www.JacksonMotorSpeedway.net.